Sugar Body Scrub
Regular price
$19.99 USD
Sale price
$17.99 USD
Unit price
per
Sale
Sold out
Layering. We women love to layer our fragrances. We start in the shower, a body scrub exfoliating and softening our skin. Then we apply lotion to make our skin silky and smooth, before slipping into our undies that have absorbed the light scent from our drawer sachets.  
Her Legacy Beauty and Gifts' Sugar scrub is the first part of that layering. The ingredients are simple: coconut oil and avocado oil to hydrate, sugar to exfoliate, and fragrance to complete the wonderful experience. 
Check out the Our Fragrances tab on the top menu to learn a bit about each woman and understand the meaning behind her individualized fragrance blend. Mary, of course, has been formulated without fragrance for those women with fragrance sensitivity, while still providing wonderful hydration and exfoliation. 
Elizabeth, Esther, Eve, Hannah, Mary, Rahab, and Ruth
Which is your favorite?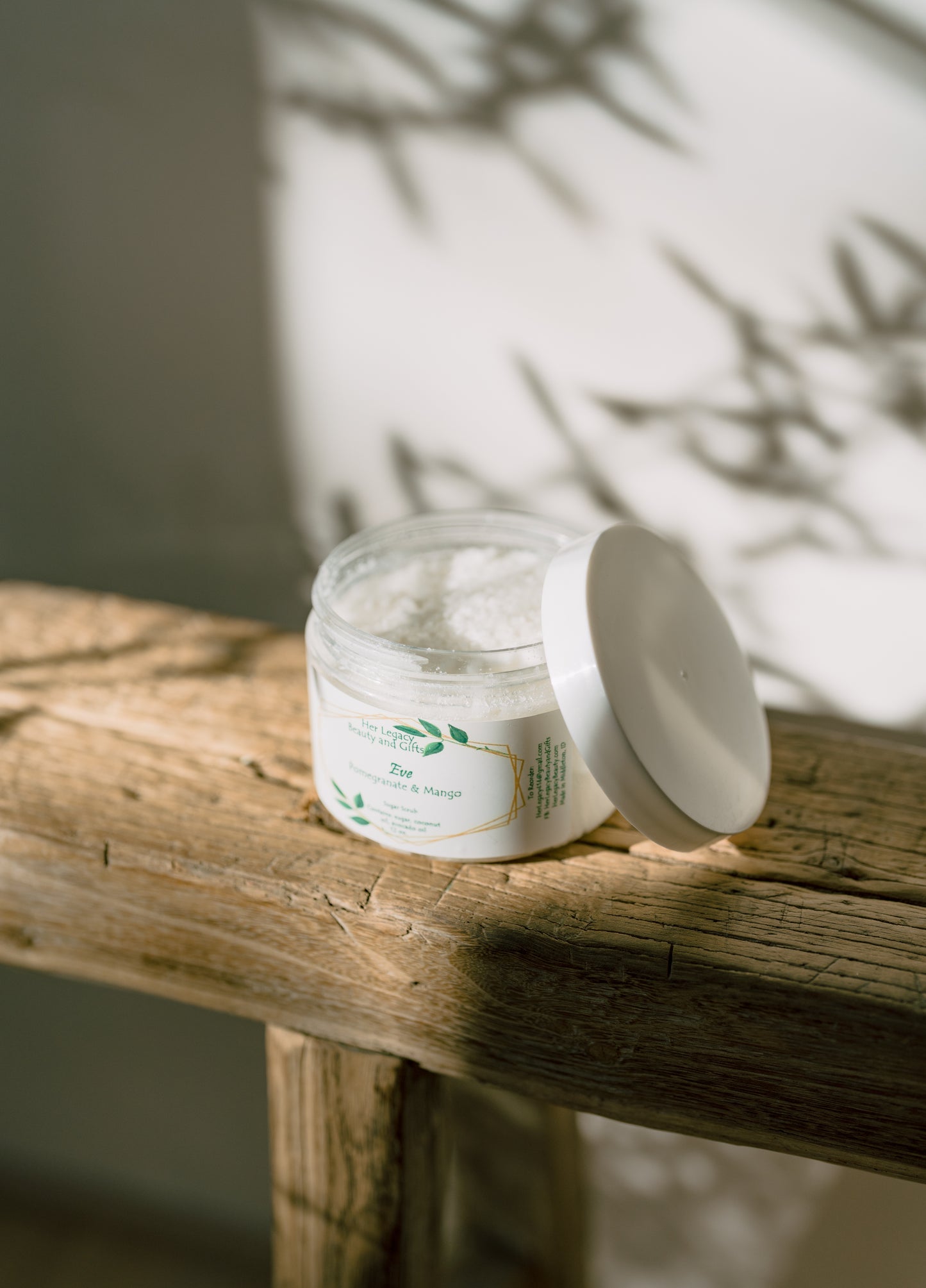 Esther
Esther lotion, body scrub and fragrance. LOVE LOVE LOVE this scent!! The body scrub leaves my skin so soft and moisturized! The lotion is so decadent without being greasy. It's perfect. And the fragrance is just wonderful. I really love it.
Healing hand product
I started using the sugar scrub a couple of months ago. I use it each morning on my face, neck and elbows. It is a great way to start my da. I love how it makes my skin feel and look and the fragrance is amazing!
What I didn't expect is how it would help my hands. I have struggled with extremely dry hands that often crack and bleed. Since using this scrub, my hands are markedly different. I no longer feel compelled to hide my hands because they are so dry. They look 30 years younger!!
Thank you for helping heal my hands!
silky smooth
My dry winter skin is in love with this product. No scaly, itchy skin. Soothes, smooths and smells so good. Thanks
Love this scrub!
I have tried so many different scrubs from so many different companies and Her Legacy is amazing! It gives my skin deep exfoliation AND deep hydration. Other brands have left my skin feeling raw, almost like I had used sand paper. With Her Legacy sugar scrub I get out of the shower with my skin feeling refreshed and moisturized. Perfect to use after you shave. And the scent is incredible. My first container was Eve and I loved it so much I don't know if I can try a different one next time.