Legacy Illuminating Serum
Regular price
$49.99 USD
Sale price
$44.99 USD
Unit price
per
Sale
Sold out
Ingredients

• Caprylic/capric triglyceride (coconut oil ester)
• Rosehip oil
• Jojoba oil
• Squalane
• Borage seed oil
• Grapeseed oil
• Buriti oil
• Rice bran oil
• Apricot kernel oil
• Vitamin E
• Marjoram oil
• Lavender oil
 
Carefully balanced and naturally derived ingredients that give your skin the oils and nutrients that it needs leaving your skin silky-smooth and hydrated.
All ingredients supplement existing naturally occurring oils found in the skin
Gives the skin a rejuvenated and invigorated quality that will look and feel soft and youthful
Naturally nourishes and hydrates the skin, relaxing and/or reducing wrinkles and lines on the face (and elsewhere)
Formulated by a physicist, with each ingredient validated for quality and integrity by a doctor and pharmacist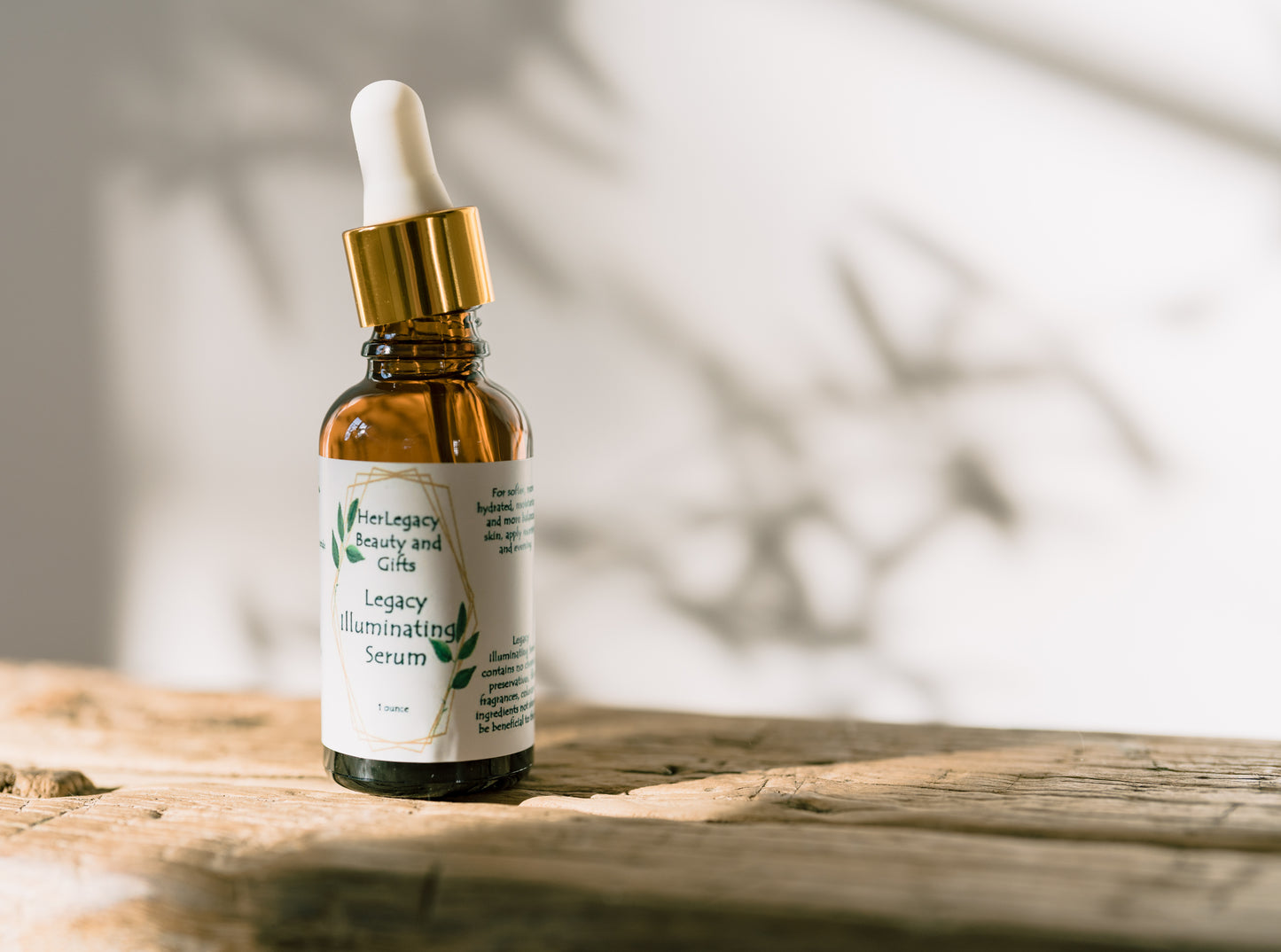 Visible results!
I am almost done with my first bottle and I am hooked. My skin is feeling smoother by the day and a little goes a long way. Liquid GOLD!
Thank you!!!
Amazing!
I am in my seventies. I had lackluster skin but now I look younger thanks to Legacy IllumintingSserum.
Best serum!
This serum leaves my face feeling soft and luminous. Never feels greasy and it absorbs quickly leaving a beautiful glow. I have been using this product for about 2 years now as part of my every day routine. I love it so much!
Illuminating Serum
Love the serum! Light & moisturizing.
Each Ingredient Has a Purpose

Each of the 12 ingredients has a specific and essential focus on improving your skin by either supplementing or replacing nourishment that often decreases as we age or enter into dry climates. This results in the skin becoming soft, more hydrated, and supple. Most customers feel it leaves their skin looking and feeling many years younger than before.

Formulated Using Evidence Based Research

The entire formula was designed then researched using real world data and clinical trials resulting in ingredients with real benefit and lasting effectiveness. By removing ingredients that harm more than help (alcohol, irritants, drying agents), we only included the best ingredients for maximal benefit to you and your skin.

So, whether you eat or drink, or whatever you do, do all to the glory of God. ESV 1 Corinthians 10:31

As believers entrusted with our God given mission to glorify His name, our primary mission is to bring glory to God through what we do and our products we produce. We believe strongly in bringing about cultural, and spiritual change that results in wholesome spiritual contentness that only God may bring. By supporting us you help to support our mission to bring God back into our daily lives.
Her Legacy Beauty and Gifts proudly announces the release of its newest beauty product: Legacy Illuminating Serum.
What is Legacy Illuminating Serum, and what do women think of it? Here is one of our lovely customers explaining their personal experience:
Legacy Illuminating Serum was developed by a degreed physicist and cosmetics expert. The benefits of each ingredient were then verified by a licensed pharmacist based on published medical reports. Legacy Illuminating Serum contains no preservatives, no color, no added fragrance, and no fillers. It is formulated using only oils which have specific benefits for the skin, which leave your face feeling soft; never greasy.

Legacy Illuminating Serum also contains only oils that are low on the comedogenic scale. A comedone is a scientific word for a clogged skin pore that often turns into a pimple. The comedogenic scale is a rating of 0 to 5 based on how likely a substance is to clog pores. The lower the rating, the less likely the substance is to clog pores. All of the oils used to formulate Legacy Illuminating Serum have a low rating. The oils are absorbed into the skin quickly, rather than sitting on top of the skin to clog pores.